Big Donation to Help Mental Health Patients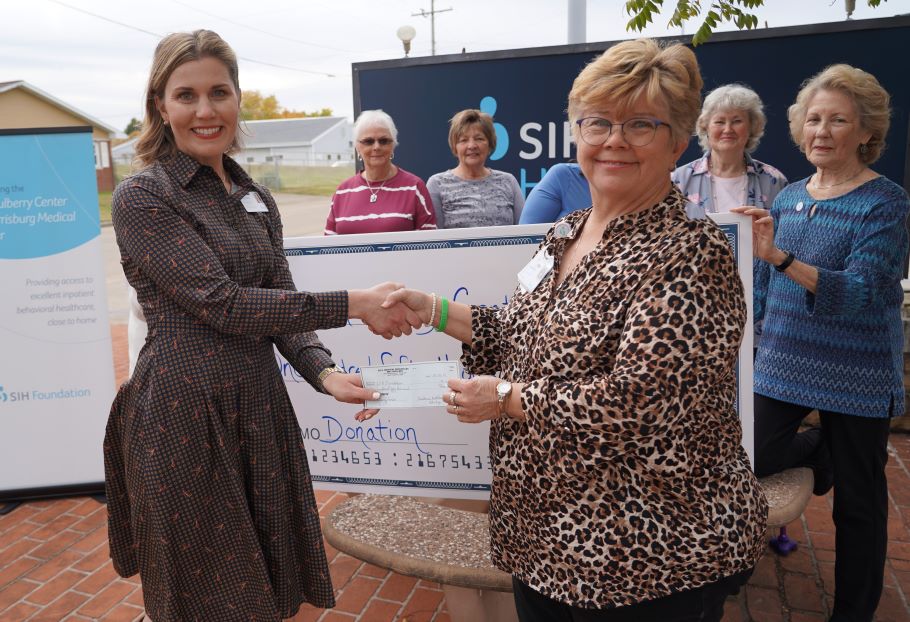 On October 24, the SIH Memorial Hospital of Carbondale Auxiliary presented a $150,000 check to the SIH Foundation in support of the renovation and expansion of the SIH Mulberry Center in Harrisburg. The major gift kicks off the fundraising effort for the proposed $18 million project to add beds and create a medical psychiatric unit. It's the first time an SIH auxiliary has earmarked funds for a sister facility.

"Everyone at some point in their lives has been impacted by mental health or a mental health crisis," said SIH Manager of Volunteer Services Peggy Henson.

Located on the campus of SIH Harrisburg Medical Center, the SIH Mulberry Center is the only non-state operated inpatient behavioral health unit in the southernmost 16 counties.

After Harrisburg Medical Center joined SIH, the auxiliary learned about the Mulberry Center. None of the volunteers or Auxilians actually knew we had this service in Southern Illinois. We felt it's very much like cancer in some ways; for example, in that most everyone has been affected by mental health, psychiatric health or cancer in some way. So we made a pledge of $150,000 just to show our support of our sister SIH facility and the people of Southern Illinois. That's why we're here. We're just here trying to make the road a little easier for families," said Henson.

Colleagues from the SIH Foundation and SIH Community Benefits, the SIH Harrisburg Medical Center Foundation, SIH senior leaders and Mulberry Center staff, as well as members of the Harrisburg Chamber of Commerce attended the formal check presentation.

"With this gift and others, SIH is investing in the community for the health and well-being of Southern Illinoisans. Not only do we recognize the importance of caring for our patients' mental wellness, but we also prioritize expanding access to this service that correlates with the need to serve a world more affected than ever before by behavioral health concerns," said SIH Foundation Director Jocelyn Popit.