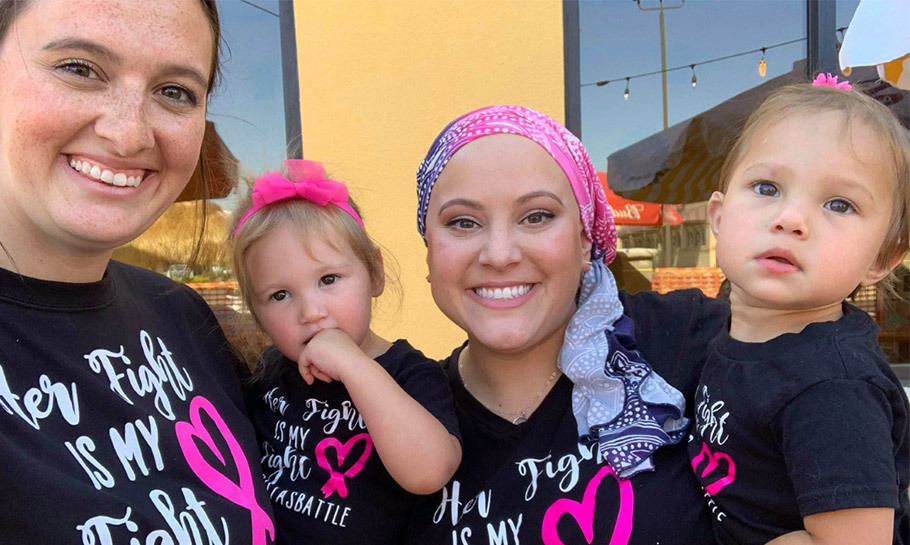 I am so thankful Dr. Korte took my concerns seriously.
You don't worry about getting older...You worry about dying.
Krista Tacderas of Carbondale anticipated 2020 being a year she would never forget. After all, it was the year of a milestone birthday – the year she would turn 30. However, just as the COVID-19 pandemic escalated in March, she was diagnosed with triple negative breast cancer, an aggressive form of the disease. She credits her family doctor, Mark Korte, MD, at SIH Logan Primary Care Herrin, for taking quick action to get her the critical treatment she needed. Tacderas contacted Dr. Korte after she found a lump in her breast. She said he didn't hesitate to take action in spite of her young age and no known family history of breast cancer. He scheduled her for a breast ultrasound the afternoon she saw him. "I am so thankful Dr. Korte took my concerns seriously," said Tacderas. " You don't worry about getting older. You worry about dying."
A family fight
Tacderas soon discovered she carried the BRCA1 mutation, a gene that significantly increases the risk of developing breast cancer. Subsequent genetic testing revealed her younger sister, Brittani Snyder of Marion, carried the genetic mutation as well. While their mother tested negative, they learned they inherited the gene from their father. It was at that point the sisters, both mothers of young daughters themselves, embarked on their fight together: Tacderas would undergo chemotherapy at the SIH Cancer Institute under the care of Georges Tanios, MD, medical oncologist and hematologist, while Snyder made the decision to undergo bilateral mastectomy with SIH's Carlos Rivera-Serrano, MD, plastic and reconstructive surgeon, to thwart the likelihood of developing cancer.
"Even though I hate that Krista and I are both in this situation, I couldn't imagine doing it alone. She is always the person I can call with my worries or questions. She's the best big sister in the entire world and she honestly has saved my life," said Snyder.
After finishing chemotherapy in August, Tacderas chose to undergo a total mastectomy instead of a lumpectomy with Arsalan Salamat, MD, breast surgeon, in early October because of lingering concerns around the BRCA1 gene.
"The next two years will be about reconstructing my body through plastic surgery and continuing to see oncology to prevent recurrence since triple negative breast cancer is most likely to come back in the first two years," she explained.
"Overwhelmed by generosity."
Tacederas' husband, Sean, is an intensive care unit (ICU) nurse at SIH Memorial Hospital of Carbondale. They have a two-year-old daughter, Rosabel.
"As a mom, you already want to spend as much time with your children as you can, but when you're diagnosed with cancer, you start worrying about how much time you may have on this earth with your child and you don't want to miss anything. She is and always will be my number one reason to fight to live," she said.
She credits her husband for picking up overtime when needed and taking off from work on days she was too sick to care for their daughter.
"His work family has been more than understanding and supportive, even going as far as trying to keep him away from Covid patients due to my compromised immune system. We have also been unbelievably supported by our family, friends and community. It has brought me to tears many times because I've been so overwhelmed by the generosity," expressed Tacderas.
Keeping the faith
Krista has been documenting her breast cancer journey on social media. She does not hold back in sharing her fears and her faith. The site has brought her into contact with others, both near and far, who are fighting cancer. You can travel along on Krista's journey on Facebook at "Krista's Breast Cancer Battle." She is also an advocate for early screening for both men and women.
If this year has taught Krista anything, she said it's this, "Every single day on this earth is a blessing!"