Monoclonal Antibody COVID-19 Infusion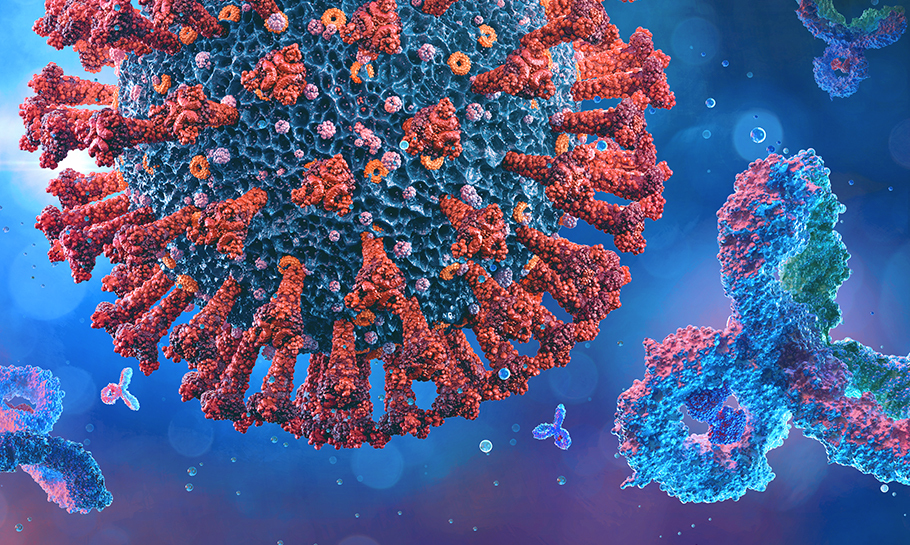 For those at risk for serious illness from COVID-19, monoclonal antibody (mAb) treatments have been shown to be effective in blocking the virus from entering cells and limiting the amount of the virus in the body. This typically results in milder symptoms and less likelihood of the need for hospitalization. Qualification for mAb treatment depends on age, health history, and duration of symptoms.
The latest guidance from NIH (National Institutes of Health) and IDPH (Illinois Department of Public Health) suggests that once a threshold of 80% positive or higher for the Omicron variant is reached, the current mAb therapies (Regeneron and Eli Lilly) should no longer be administered by default because of lack of efficacy against this variant. Although the current treatments remain effective against the Delta variant, the vast majority of cases needing mAb therapy will receive Sotrovimab, a mAb therapy that is effective against Omicron and Delta variants.
Monoclonal Antibody Criteria
The criteria for receiving monoclonal antibodies are:
Individual must be at least 18 years old and within 10 days of symptom onset, not require hospital admission and have one or more of the following high-risk criteria to receive the drug:
Immunosuppressive disease or immunosuppressive treatment
Aged greater than 65 year of age
Reside in a nursing home
Additionally, those 50 years and over with at least one additional risk factor OR above the age of 18 years with at least 2 additional risk factors for progression to severe COVID disease as described here and as below:
Cancer
Cerebrovascular disease
Chronic kidney disease
Chronic lung diseases
Chronic liver diseases
Diabetes mellitus
Heart conditions
Obesity (BMI ≥30 kg/m2 )
Pregnancy and recent pregnancy
Smoking, current and former
Tuberculosis
Incomplete vaccination/lack of eligible booster
Sickle cell disease
Neurodevelopmental disorders
Medical-related technological dependence
Mental health disorders limited to:

Resides in a group home
Unable to perform Activities of Daily Living without assistance
Resides in Long Term Care facility
Note: If an individual has received a monoclonal antibody treatment, defer COVID-19 vaccination for 90 days.
Outside EPIC Workflow:Provider's office should call the SIH St. Joseph Memorial Hospital Infusion Center at 618-684-3156 extension 55315 and notify them that there is a patient that needs to be set up for an infusion. The scheduler will fax the provider's office a hard copy of the order and the Fact Sheet, for the provider to complete and return. Once all necessary information is received, the patient will be scheduled.
How do I get the treatment?
A physician order is required to receive monoclonal antibodies. Once an order is placed by a physician, a scheduler will reach out to eligible patients and make arrangements for the infusion. At this time, SIH has limited quantities of the monoclonal antibody. The supply of the drug is being allocated from the state to healthcare facilities. If you feel like you meet criteria, please reach out to your Primary Care Provider to discuss a referral.
If you are a provider, visit the clinician portal for instructions on how to order monoclonal antibody COVID-19 infusion.
What are monoclonal antibodies?
An antibody is a protein that the body makes to fight off viruses and other foreign substances. Monoclonal antibodies are man-made antibodies produced in a laboratory that can mimic the human immune system response to infection. These are designed to block viral attachment and entry into human cells, thus neutralizing the virus that causes COVID-19.
Will insurance cover monoclonal antibodies?
The U.S. government has purchased a supply of the drugs to distribute to states at no cost to patients. However, even though the therapies are provided at no cost, there will be other costs associated with the infusion, which can be charged to insurance. If you have questions about coverage, please contact your insurance.