SIH COVID Update
Schedule Your Covid-19 Test Online
Last Update - 05/19/2022
SIH COVID-19 Results by Calendar Day with Daily % Positive and Rolling Average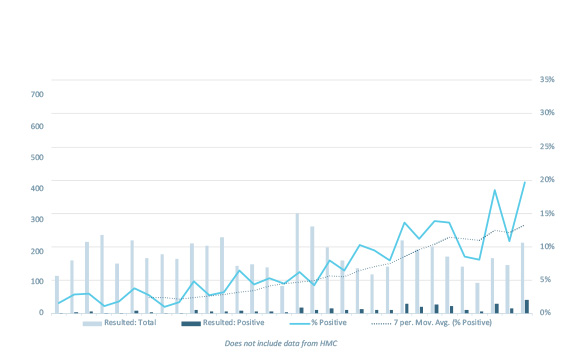 Monoclonal Antibody Treatments
Total SIH COVID-19 Patient Admissions by Week - Rolling Calendar View
By Patient Type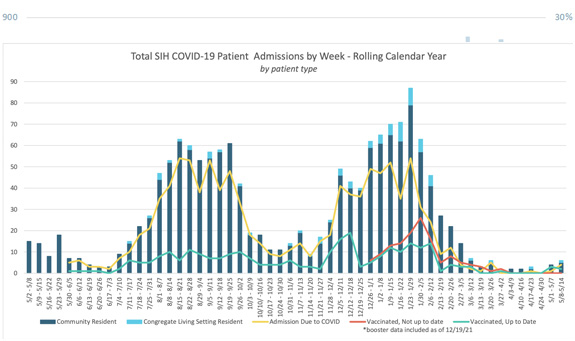 SIH COVID-19 Current Inpatient Data
Patient Under Investigation (PUI) - An inpatient who is awaiting test results.

SIH COVID-19 Admission By Age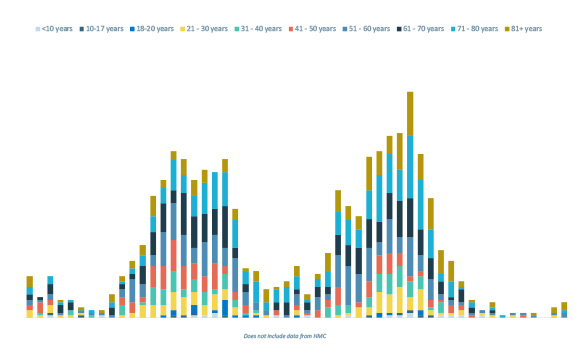 Inpatient Admissions due to COVID-19 with Vaccination Status by Week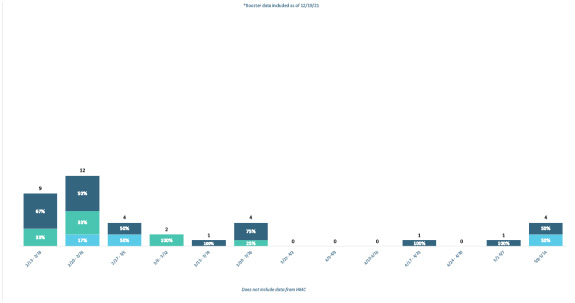 Inpatient Deaths due to COVID-19 with Vaccination Status by Week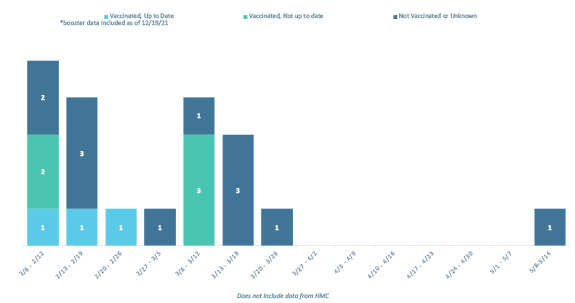 SIH Total Number of Fully Vaccinated Breakthrough COVID-19 Cases
This chart includes testing data from SIH COVID-19 testing locations and hospitals.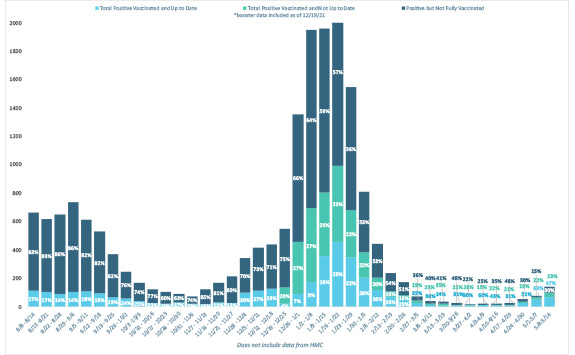 COVID-19 Risk Metrics and Vaccination in Southern Illinois
A county enters a warning level when it experiences an increase in two or more of the COVID-19 risk indicators from the state's COVID-19 Resurgence Mitigation plan. A map and information of each county's status can be found on the IDPH website at https://www.dph.illinois.gov/countymetrics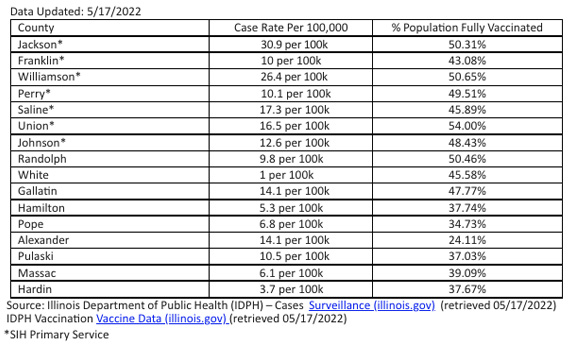 ---
State & National COVID-19 Data
---
COVID-19 Reminders
Vaccine Fact Sheets
Travel Guidelines
For information from the CDC on travel recommendations for both fully-vaccinated and unvaccinated individuals, click here. Fully vaccinated travelers are less likely to get and spread COVID-19.
To learn when it is advisable to avoid or delay travel, click here. Upon returning to work from travel, please continue to follow all entry screening processes and comply with the universal masking policy in all facilities.
Donning & Doffing
HIPAA
Every patient has a right to privacy. Inappropriate access, use or disclosure of patient information is a minimum of a Level 3 Improvement Counseling under our Confidentiality of Sensitive Information Policy.
---
Community Information COVID-19 Quick Reference
SIH Community COVID-19 Hotline
Call 844.988.7800
8am - 4:30pm, 7 Days a Week
COVID-19 Vaccine Information & Scheduling
Call 866.744.2468
8am - 4:30pm, 7 Days a Week
---
COVID-19 Drive Through Testing Hours
Carbondale - Center for Medical Arts Location
Monday - Sunday, 8:30 am - 12:00 pm
By appointment only
Marion - SIH Urgent Care Location
Monday - Sunday, 8:30 am - 12:00 pm
By appointment only

Subscribe to SIH COVID-19 Weekly Updates