SIU makes face shields with 3D printer; donates to SIH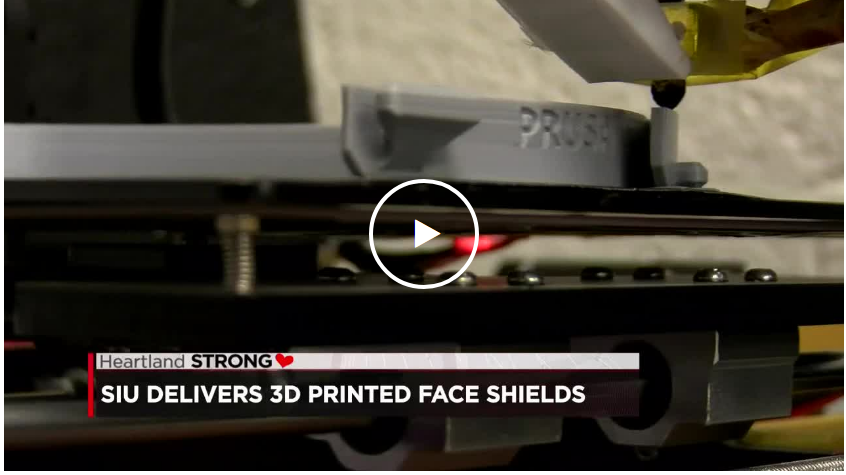 CARBONDALE, Ill. (KFVS) - Southern Illinois University is utilizing 3D printing technology to create plastic face shields for Southern Illinois Healthcare.

Lingguo Bu, associate professor of curriculum and instruction, with support from the SIU STEM Education Research Center, has already delivered about 150 shields to SIH, and on Monday he delivered 20 more.

"We are just happy to be able to provide just a little bit of help," Bu said.

Bu is one of several faculty and students using 3D printing technology housed at the university to manufacture the shields in the face of growing demand.

"We're glad we can do something to serve the community, which is one of the missions of the university," Bu said.

"The 3D technology to produce face shields for our healthcare providers is a game-changer," said SIH Chief Nursing Officer Jennifer Harre. "I am so appreciative of the university's efforts to stand in the gap and support us during the COVID-19 crisis."

Angie Bailey is the Assistant Director for Community Health at SIH. She is collecting all the donations like the face shields and even hand-made mask. Right now, SIH is halfway to their goal of receiving 1,000 face shields.
"These face shields are just another tool that can be used if staff members come in contact with someone with COVID-19," she said.

The face shields will help protect healthcare workers' eyes, nose and mouth when they are working with patients.

Bu said his son's fifth-grade teacher at Carbondale's Lewis School first alerted him to the need for shields locally, as well as available construction plans that could be used to make them.

"Over years we've built a 3D design lab, and we use designs and printing to serve our students as well as STEM teachers in the area," Bu said. "Because of this, we got a message from a Lewis School teacher with whom we had done a workshop, as well as from another of my students from Mt. Vernon whose husband does laser cutting. They told us about the SIH request for the shields."

SIH sent the construction plan files, created by the European Prusa 3D printing team and recommended by SIH, to SIU.