Radiation Oncology Earns National Accreditation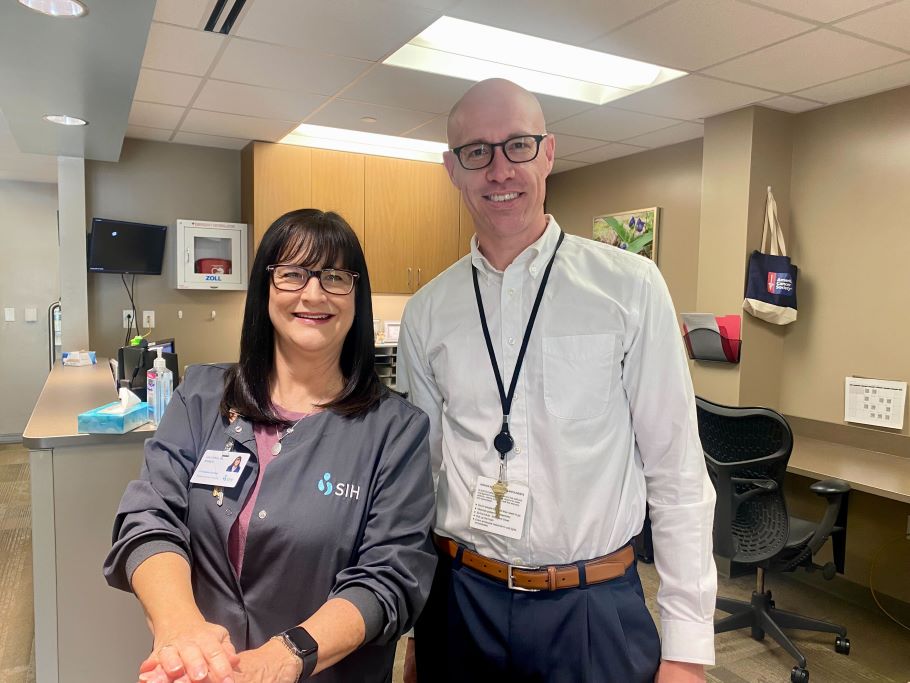 The radiation oncology department at the SIH Cancer Institute is among only 250 programs nationally to receive Apex Accreditation Program for Excellence ©, a gold standard in patient safety, from the American Society for Radiation Oncology (ASTRO). The achievement followed a rigorous internal process.
"I'm extremely proud to have such an engaged team to ensure the success of APEx. Their enthusiasm was palpable during the onsite survey," said Tina Berry, director of operations for oncology and breast services. "APEx helps us determine the correct path while caring for our patients. It helps put processes in place to make sure our quality is benchmarked to evidence-based indicators for safe care."
"When you have a community cancer center like we have, we're being compared against bigger cancer centers in cities like St. Louis. The accreditation process is a formal way of acknowledging that we provide a similar level of quality and safety to any cancer center in the nation, because they use the same accreditation program we do," said Michael Little, MD, radiation oncologist.

Radiation oncology is a primary treatment for patients with cancer.

"We also collaborate closely with many other specialists, like medical oncologists, surgical oncologists, urologists and pulmonologists. Because of this, it's imperative we focus on multidisciplinary care. The standards we follow with our accreditation promote effective communication with the whole care team as well as with the patient and their caregivers," explained Lori Cohen, radiation oncology manager.

Pursuit of APex accreditation isn't mandatory. Thus, the accreditation shows the commitment to care from the entire team.

About APex

APEx, the fastest-growing radiation oncology practice accreditation program in the United States, is a voluntary, objective and rigorous multi-step process during which a radiation oncology practice is evaluated using consensus-based standards. The practice must demonstrate its safety and quality processes and show that it adheres to patient-centered care by promoting effective communication, coordinated treatments and strong patient engagement.

APEx is the only radiation oncology accreditation program that includes a self-assessment, which allows practices to internally assess compliance with quality improvement standards. The practice then proceeds to a facility review by an external surveyor team that includes a radiation oncologist and a medical physicist. The program reflects the recommendations endorsed in the ASTRO publication Safety is No Accident: A Framework for Quality Radiation Oncology and Care.