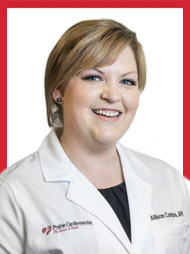 Allison Campos, NP
Cardiovascular Disease
Locations & Contact Information
Prairie Cardiovascular Consultants, Ltd (Carbondale)
409 West Oak Street,
Carbondale, IL 62901
Get Directions
About Provider
Biography
Being a lifelong resident of Southern Illinois, I feel privileged to provide care to the members of our community. As a Nurse Practitioner, I am committed to practicing the highest standard of cardiovascular care with respect and compassion. As I work in close collaboration with Dr. Raed Al-Dallow, I believe our patients can achieve improved quality of life in the face of health related obstacles.
Languages
Medical Training
Education
Vanderbilt University, Nashville, IN