Keeping the Faith and Saving Lives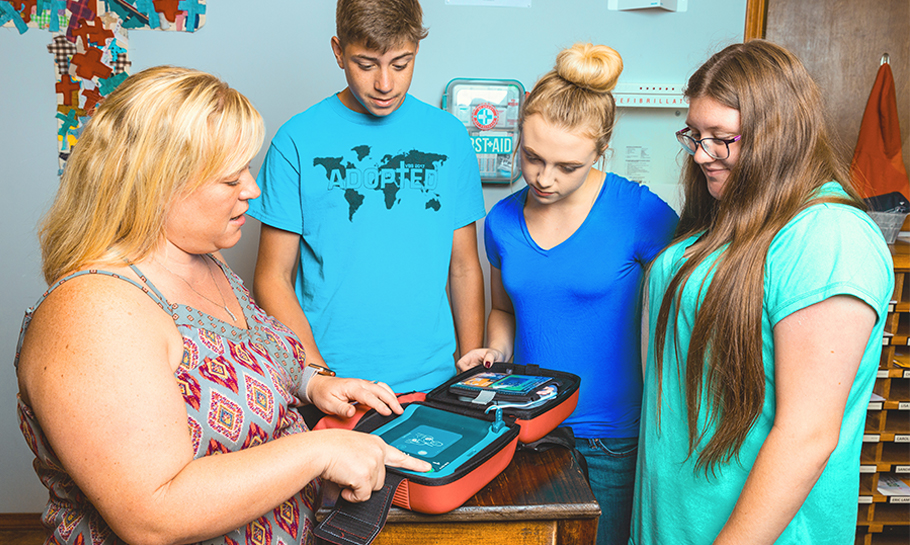 SIH Bringing AED Technology to Houses of Worship
Heart-related crises can happen at any time and anywhere. One of the keys to survivability in the event of a heart attack or other emergency is swift and correct treatment – even before first responders are on the scene.
Automatic External Defibrillator (AED) units – portable, electronic devices capable of diagnosing life-threatening cardiac conditions and providing a shock to the heart to re-establish normal rhythm – can make the difference between life and death, if one is available. The trick is to have AEDs in places where large numbers of people gather, such as churches, mosques and synagogues.
An outreach of SIH's Health Ministry program does just that: working with houses of worship to better prepare them for a variety of health emergencies.
Following a series of health education workshops and development of an emergency preparedness plan, faith communities such as Vienna's Fellowship Baptist Church can qualify for installation of an AED at no cost.
"Our church is much more than church, so qualifying for this program was important," says Sherie Smith, a member of the congregation who also serves as a school nurse and teacher at Vienna High School. "We have a Family Life Center used by community entities such as the Girl and Boy Scouts, Southern Seven Health Department, Family Counseling Center and it is and election site. We are also designated by the American Red Cross as an emergency shelter and it has been used several times for that purpose."
Once church members completed the SIH training and grant requirements, Fellowship Baptist received the AED and supplies valued at more than $2,000. SIH Health Ministry Coordinator Jo Sanders says recipients are required to train congregation members on basic CPR, first aid and use of the unit. Churches also receive help developing and adopting an emergency response plan with assistance from their local health department and the Shawnee Preparedness and Response Coalition (SPARC).
"Once we began to go through training, we realized we had a large number of youth in the church who were interested in this program," Smith points out. "Several of the students had already been in my high school class which includes CPR with AED training and were excited about sharing those skills with the church."
Along with fellow church member John Wells (also a CPR instructor), Smith held classes for other youth and adults wanting to be trained for an emergency.
"It is a privilege to serve as an instructor and help prepare our church group for an emergency," Smith says. "The congregation's youth has been a big part of this, as they not only demonstrate a passion for Christ, but also a willingness to step up and help during a health care emergency. That's impressive."
The American Red Cross reports improved access to AEDs can save as many as 50,000 lives annually. Sanders says the SIH Health Ministry has placed more than two dozen units in area faith communities so far, with others working toward receiving their own AEDs.
Smith says the program meets a real need.
"Churches are places where large groups of people congregate and often there are adults there that might need this sort of service," she notes. "When churches build health programing, screenings, bulletin boards, exercise programs and other initiatives, it really creates a ripple effect. It becomes not just about AEDs, but about improving health in general."
Interested in learning more about SIH's Health Ministry?
If you're interested in learning more about this program, or the many others offered by SIH's Health Ministry, please call SIH's Health Ministry Coordinator Jo Sanders RN, BSN at 618-457-5200 ext. 67830.