A "Giant" Change for SIH Rehabilitation Patients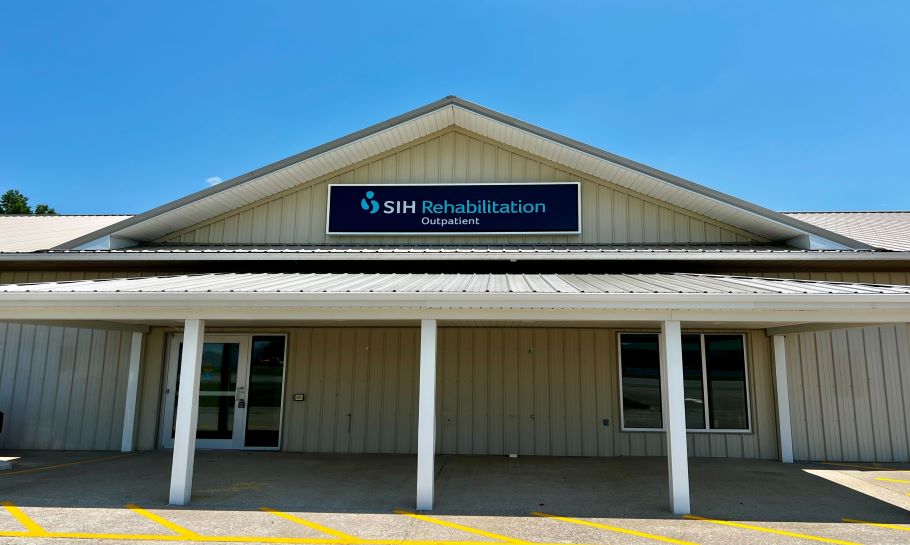 You can't miss the new SIH Outpatient Rehabilitation Facility when driving down Route 148 in Herrin.

On July 5, the teams from Logan Park and the outpatient rehab services at SIH Herrin Hospital moved to their new location---inside the former Anderson's Warehouse Building at 3100 S. Park Avenue.
While the "savings giant" may be in Marion now---there are new, giant advantages, for SIH Rehabilitation patients at his old home.
"We will be able to offer more services to our community in a convenient location that allows our patients to park close to the building," said SIH Vice-President and Herrin Hospital Administrator Rodney Smith.
Crews put months of work into converting the former furniture store into a state-of-the-art facility which offers larger, specific training areas for patients. Smith and others say the added convenience of being able to park right outside the front doors is key feature.
SIH is now able to offer improved services for pediatric patients. Leaders say no other clinic in Southern Illinois has as much dedicated space to those services.
"This new space where we will treat pediatric patients allowed us to purchase large pieces of equipment that our old space did not have room for. We have a large vestibular swing with multiple attachments to meet the various sizes and needs of pediatric patients. There are many benefits of the swing. Swinging allows a child to neutralize the disruptions that are caused by the vestibular system, which originate in the inner ear. The smooth, back-and-forth motion can be soothing and calming to a child. In many cases, children who become over-stimulated with information find that this type of therapy calms the central nervous system," said SIH Occupational Medicine and Rehabilitation Services Director Dena Kirk.
Managers at the new location are seeing many positives in the first few days of operations.
"Patients have access to additional therapists with vast knowledge that can be shared with all. We have a great collaboration of staff joining Logan Park Rehab and Herrin Hospital Rehab," Outpatient Rehabilitation Manger Kacey Chamness said.
Outpatient Rehabilitation Manager Robyn Adams is proud of the enhanced services on site.
"There are more specific areas to provide services for our pediatric patients, in addition to a dedicated area for our sports and "industrial" athletes to do sport/work simulation activities," she said.
Sarai Yates is an athletic trainer and the sports medicine coordinator. She says years of growth for the program led to patients and staff literally running into one another inside the hospital location.
"This really became an issue with me treating athletes. At the end of their therapy sessions, they could be performing running drills and sport specific drills. Many times, I would have to take the patients outside for space. Now we have plenty of space to run, jump, swing a bat/golf club, throw a ball or whatever else we can think of," Yates said.
The facility also gives separation to physical therapy and occupation therapy—allowing each specialty to have more space to execute creative services for patients. Kirk says Work Care specialists also have the space to simulate activities on job sites.
In addition to all the extra space—high end technology can be seen throughout the facility. That includes the Alter-G or anti-gravity treadmill that was developed with NASA technology.
"It is comforting to know that we can provide the very best experience for our patients from the pediatric population to athletes, to working adults and our geriatric population," she said.
"My first thought (when seeing the facility in action on opening day) was that finally the long-awaited project is complete, and we will be able to offer new services for our community that are needed and we will be able to affect and change lives," Smith said.
"I feel very appreciative to SIH for building such a wonderful place for not only the community, but for the employees to be able to grow and help the community to the best of our ability," Yates said.