SIH Celebrates Pride Month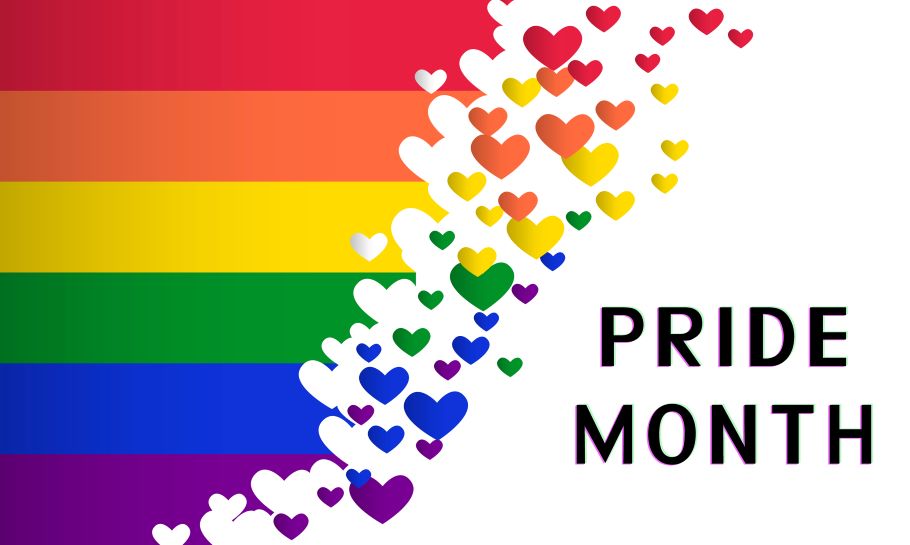 From SIH Director of Workplace Culture Jeffery Reece

For as long as I can remember, PRIDE Month has been celebrated across the U.S. in June and offers an opportunity to recognize the impact lesbian, gay, bisexual and transgender individuals have had on history locally, nationally and internationally.

For me, as someone who is deeply and personally impacted by this community, PRIDE Month represents the ongoing fight for equality and an end to discrimination. It represents togetherness, confidence and love.

From Our Colleagues

Dr. Todd Guenzburger, SIH vice president and chief health information officer, recalls his first PRIDE Month experiences with his partner of 32 years.

"PRIDE and its activities were a way for us to visibly support and connect with each other and those who supported us during this hugely stressful time. One felt less alone, more activated with hope and increased awareness of the resources and strategies available to fight against injustice," recalls Dr. Guenzburger.

"PRIDE Month is the time for everyone to celebrate their true and authentic selves. I spent many years hiding parts of me from those close to me, not accepting myself and having internal turmoil over who I was," said Tim Kernan, SIH system director of surgical services. "I never would have thought that in my lifetime, I can be who I truly am and celebrate this in a community that is accepting of diversity. This is a month we get to focus on and openly celebrate who we are."

Brittany Roach, SIH leave and absence manager, believes it's important to acknowledge PRIDE, not just in June, but every month.

"Addressing inclusion can be an eye-opening experience for everyone, such as understanding challenges some employees face that others take for granted. Celebrating PRIDE in the workplace is about making everybody feel welcome regardless of their personal preferences," said Roach.

When an organization is intentional about creating a safe space for belonging, it has a profound effect.

"When people feel accepted, you have a more productive, motivated and successful workplace. When your environment welcomes different perspectives, a drive for innovation follows," said Roach.

Fostering Acceptance & Authenticity
One variable that impacts a person's likelihood to disclose their sexual orientation or gender identity at work is the support of their heterosexual colleagues. How can those of us who don't identify as part of the LGBTQIA+ community work to be better allies for our patients, colleagues and families?
"By showing up every day and living out our Commitment to Care…treating everyone with dignity and respect while allowing us to all show up as ourselves safely and contribute," said Dr. Guenzburger.
Darren Ackerman, shift supervisor for ICU/CVICU, prides himself for bringing his whole "openly out" self to work.
"Non-LGBTQIA+ persons can show PRIDE by being supportive of their LGBTQIA+ coworkers when discrimination occurs. Speaking up and acknowledging support means so much. Simply wearing the PRIDE colors can show their LGBTQIA+ coworkers they are in a safe space to be themselves."
SIH Commitment to Care: What's Happening Now

SIH recognizes the LGBTQIA+ population is growing and we want to do more to support their health care.
In 2021, SIH conducted a voice of customer survey with members of the region's LGBTQIA+ community through Carbondale's Rainbow Cafe to learn about health care barriers/inequities.
We launched an initiative to track health data and outcomes of our LGBTQIA+ patients so healthcare providers could have the tools they need for delivering high-quality care to this community.
Since launching this initiative on April 10, 2022, SIH more than doubled our collection of valuable SOGI (sexual orientation and gender identity) data with nearly 60% of that information being self-disclosed through Epic MyChart while 40% has been provider submitted.
We also designed a series of trainings promoting cultural competence, implicit bias and training specific to SOGI. Thousands of SIH employees have received this training to provide them with the tools and resources to deliver equitable and culturally competent care.
SIH is also launching Safe Zone Trainings as an additional measure to promote a culture of allyship. These trainings are voluntary opportunities to learn how to be better allies to those within the community and more knowledgeable about identities and systems they may otherwise not be aware of.

I have been in workplace diversity, equity, and inclusion (DE&I) for 20 years. But, still today, companies struggle with defining what DE&I means to their organization, why it's important and how to include it in their culture. A diverse and inclusive workplace is a happy, healthy, safe and productive one.