Together, we have the power to transform lives.
As a not-for-profit healthcare organization, it is a privilege for us to care for all the people in the communities we serve, regardless of their ability to pay. The community is our valued partner in this work and we thank all of you who are able to give—whether it be your time, talent, or donations. With you, we are able to provide better healthcare to thousands of people in Southern Illinois.
The SIH Foundation provides financial assistance to our most vulnerable patients and community members in times of need during their cancer treatment or upon discharge from one of our facilities. We work every day to lessen their financial burden so they can concentrate on wellness and recovery. We also fund equipment, construction, and improvement projects at our hospitals and the SIH Cancer Institute in order to provide the best healthcare services to our community.
With you, we are making Southern Illinois an even better place to live, work and thrive.
---
Giving Back – A Newsletter for Donors & Friends of SIH
Sign up to receive our newsletter by email.
---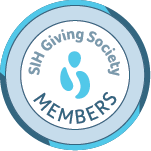 SIH Giving Society
Thank you to our generous donors!
View the 2022 list of members.
SIH Foundation Board of Trustees
John Antes, President
Daniel Booth, Chair
Steve Falat, Vice Chair
Gary Greener, Secretary
Mike Monchino
George Sheffer
Jan Payne
John Dosier
Mary Moreland
Jeff Speith
Jamie Green
SIH Foundation Staff
Jocelyn Popit
Paula Frisch
Erin Campbell

SIH Foundation