Stories of Hope & Healing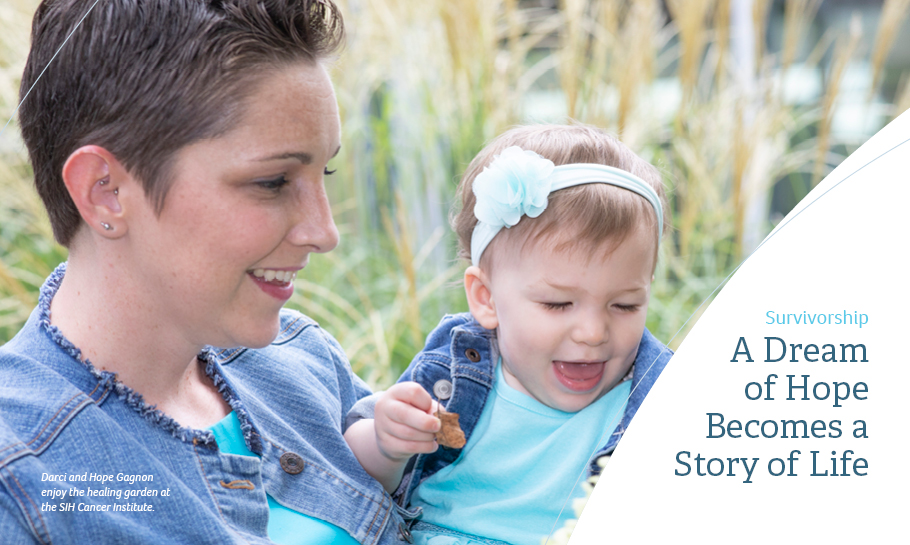 Darci Gagnon woke up one morning from a dream she couldn't forget. She dreamt she had a baby girl, named Hope. What a strange dream, she thought to herself. She and her husband already had two older kids — and they weren't planning on having more. Plus, the couple was facing a difficult reality: Darci had recently been diagnosed with breast cancer at just 35 years old.
In the spring of 2017, Darci noticed a sudden change in her breast that was worrisome. In the fall of 2017, she was referred to the SIH Breast Center. Diagnostic imaging confirmed Darci's greatest fears and showed multiple breast tumors. A double mastectomy was scheduled for early November 2017.
Darci fights for two lives
Just as she was about to be wheeled into surgery, her anesthesiologist came back to the room and said something both she and her husband would never forget: "Did you know your pregnancy test came back positive? Is that possible?"
They were both stunned. Darci was four weeks pregnant.
"Hearing this news was more shocking and terrifying than finding out I had cancer," Darci says. "Now there were two of us. I was fighting for two lives."
Delayed only by 90 minutes, she had a double mastectomy that day. Impressed with the top-notch team of doctors, the Carbondale couple was happy that Darci could get high-quality care, so close to home.
"It was so much easier than going to St. Louis for all the treatments because it's such a long drive," says Keith, her husband. "She could do all her chemo, radiation and physical therapy here. It was a real blessing, especially when we didn't know what to expect."
Up next: The double announcement
After 12 weeks of pregnancy, they mailed an announcement of her ultrasound with a pink ribbon wrapped around it.
From January to May, she had six rounds of chemotherapy. Muhammad Popalzai, MD, medical director at SIH Cancer Institute, made sure the treatments were helping Darci but still safe for her growing baby. Darci said her side effects from chemo weren't too bad and continued to enjoy running up to 25 weeks pregnant.
At 35 weeks, she gave birth on Father's Day. At four pounds and 15 ounces, Hope Eloise met the requirements of a full-term baby and the family went home together two days later. Her husband said his daughter's birth was the best Father's Day gift ever. He and Darci met as teenagers and have been married for 17 years.
"She's my hero in every way," Keith says. "I keep telling her that we're going to grow old together and that's all there is to it."
Life with Hope
A week after she gave birth, Darci went in for her first round of radiation. Since June of 2018, she's had 33 rounds of radiation, four reconstructive surgeries, one total hysterectomy and a whole lot of anesthesia. She was also diagnosed with lymphedema, a common side effect of breast cancer treatment. To say that Darci has been through a lot physically and emotionally is an understatement.
She says she couldn't imagine life without her daughter.
"Even though she wasn't planned, she's so wanted and loved," Darci says. "In some ways, she helped me disconnect from having cancer. I still can't believe we endured it together. When I look back, I'm able to block out the bad stuff and focus more on the positive. I knew I had something amazing to look forward to at the end of treatment."
Dr. Popalzai was pleased that a recent PET scan showed that Darci had no evidence of disease. He expects Hope to have a healthy, happy life.
Hope celebrated her first birthday at SIH Cancer Institute. This is a place where Darci describes her doctors and nurses as family, sending the team regular updates and pictures. Every time she goes in for an appointment, everybody wants to hold onto Hope.