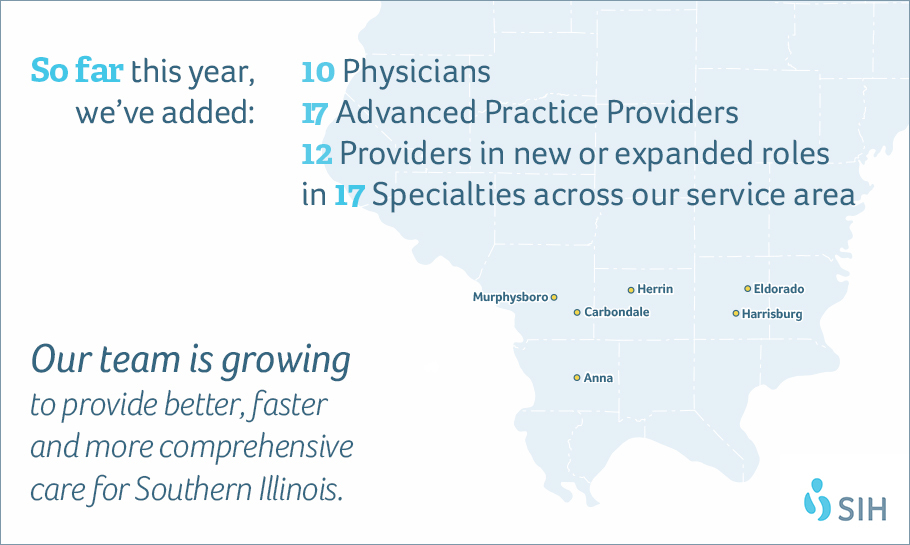 So far in 2023, we have added 10 physicians, 17 advanced practice providers, and 12 providers in new or expanded roles in our healthcare system. Spanning 17 specialized fields, these providers are now serving you across more than 14 locations throughout our service area.
At SIH, we're committed to your health and well-being. These new providers bring a wealth of knowledge and innovation, contributing to a more comprehensive and patient-centered approach to care. Whether you're seeking routine care or specialized treatment, these dedicated professionals are here to make a meaningful impact on healthcare for Southern Illinois.
Let's continue to embark on a journey of progress and growth together. Even more providers are joining us the remainder of this year, and we look forward to sharing them with you as well. It's an exciting time for us all, and we're thrilled to have you – our patients – at the center of it.
Cardiovascular Surgery:
Endocrinology:
General Surgery:
Podiatry:
Psychiatry:
SIH Breast Center:
Trauma:
Urology:
Walk In Clinic:
Urgent Care:
Virtual/Remote Patient Monitoring Program:
Cardiology:
Emergency Medicine:
Daniel Kelver, DO
Eric Smith, DO
Marcia Kuhlman, PA
Anna Szyfer, NP
Family Medicine:
Gastroenterology:
Pathology:
Pediatrics:
Pulmonology:
Rehabilitation:
Wound Care: