From Obstinate to Advocate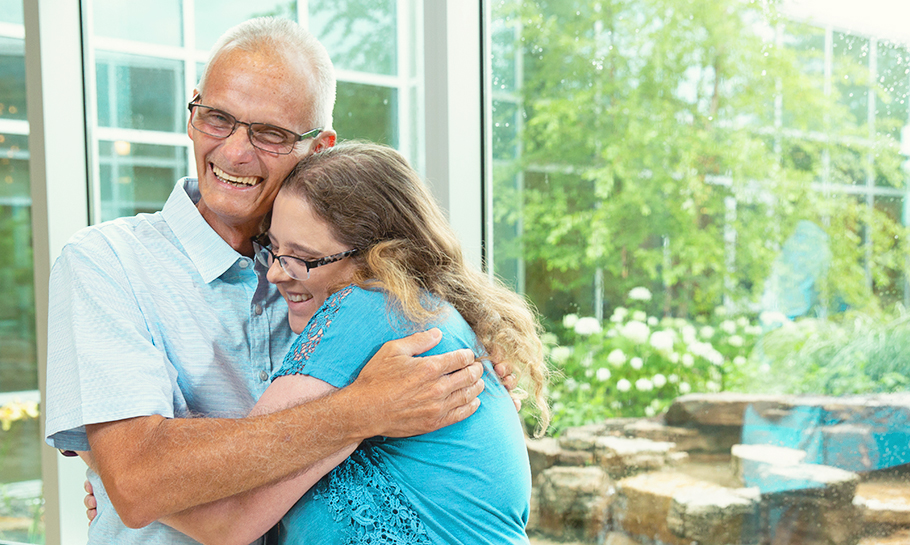 Once scared, Eldorado's Ed Vinyard Now Urges Colonoscopies
Ed Vinyard is a determined person. The 58-year-old Eldorado resident gets up each morning, puts in a full day's work, and tries hard not to let any obstacles slow him down. A bout with stubbornness, however, almost cost him his life. Early in 2017, he began to notice small amounts of blood in his urine and stool. Instead of doing something about it at the time, he quietly kept the problem from his wife, Jennifer, and went on about his business.
"I was working 60 hours a week at Clearway Communications and had never missed a day of work," Vinyard says. "I felt great and there was no other indication – as far as pain or discomfort – that there was anything to concern myself with."
Deep down, however, he admits he knew ignoring the situation was not wise. Of all things, the death of a beloved pet made him rethink his own life. "I know this sounds strange, but my wife and I are pet people and had a dog that had been with us for a long time," he recalls. "Because of his advanced age, he began to have issues with his kidneys. We were able to keep him going with medication for a few years, but finally it got worse and the veterinarian told us there was nothing they could do."
When the dog passed away, the fragile nature of life weighed on Vinyard's mind as he and Jennifer drove home. He knew his secret must be shared. He suddenly turned to his wife and asked her to "get me an appointment at the doctor's office because I've had some blood in my stool for the past six months." Initially stunned that Vinyard had kept this situation from her, Jennifer quickly set in motion the first steps to check on her husband's health. Vinyard first saw Dr. Shannon Ryder, his primary care physician at SIH Primary Care Harrisburg, who ordered a colonoscopy.
"I still didn't think I had anything to be concerned about," Vinyard recalls. "I felt fine, had no symptoms, and was really glad that I had finally told my wife what was going on. The doctor removed three polyps and told me there was a mass he couldn't take out. I figured that they would remove it later and that I would be alright." That prognosis changed at 1:36 p.m. on Nov. 8, 2017, when Vinyard received a call: the test on the polyps was positive for rectal cancer. Time was of the essence if he was going to win this fight. "We went to Siteman Cancer Center in St. Louis to get a second opinion, but as a research institution, a wait-and-see approach was suggested," Vinyard recalls. "I then returned to SIH and said, 'I like to have a plan in place everyday of my life, but I don't have one now.'"
His colorectal surgeon walked over, hugged him, and said, "Don't worry Ed – I do have a plan." Radiation treatment with the late Dr. George Kao at the SIH Cancer Institute was started to try and shrink the tumors, and surgery was performed four weeks later.
Although Vinyard had his health on the right path again, another mission was just beginning.
"Some people feel strange when they talk about getting a colonoscopy exam, or are just too embarrassed about what is involved. I decided to take the opposite approach," he explains. "By sharing my story, I might convince a person to not put off being tested like I did. If I can save one life, it's been worth it."