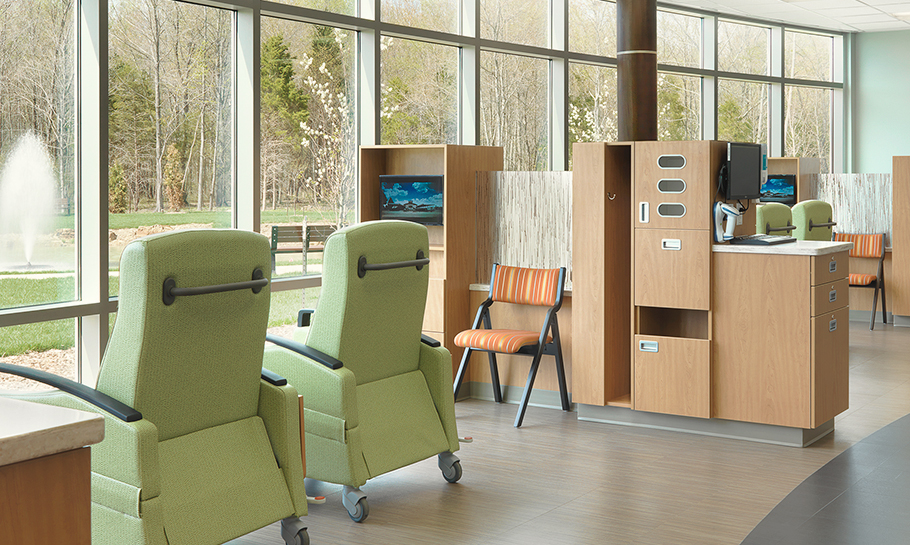 We know that receiving a cancer diagnosis is scary. But at SIH Cancer Institute, we'll be with you every step of the way — whether it's coordinating your care or providing emotional support.
If you or a loved one has recently been diagnosed with cancer, your cancer team may suggest a course of treatment that involves one or more of the therapies below:
Surgical treatment
Radiation therapy
Systemic treatment
Let's explore each option:
Surgical treatment
Prior to your procedure, you will be asked to come for a pre-operative evaluation and planning appointment. This team will spend about an hour or two, collecting important medical information that is needed by the surgical staff. In addition, the team will evaluate your risk factors, run any necessary tests, provide you with instructions for the day of surgery and answer any questions.
Since anesthesia is required, surgery or minimally-invasive procedures take place at an SIH hospital or an outpatient surgical facility, such as the Physicians' Surgery Center at Center for Medical Arts.
Here are a few of the types of surgery we offer:
Curative surgery: When it's likely that all the cancer can be removed
Diagnostic surgery: When a tissue sample must be removed for analysis
Staging surgery: To determine the extent of the cancer
Palliative surgery: To relieve symptoms
Supportive surgery: To assist with other forms of treatment
Reconstructive surgery: To improve appearance or function
Prophylactic surgery: To remove precancerous tissue
Radiation Therapy
Radiation therapy is used to destroy cancer cells. It may be used by itself or in combination with cancer-fighting medicines or surgery. For example, radiation may be used to shrink a tumor before surgery so that it can be removed more easily or it can be used after surgery to destroy remaining cancer cells.
The goal of cancer radiation treatment is to target specific tumors with the exact amount of radiation required, while minimizing damage to normal, healthy tissue. Your diagnosing physician will need to refer you for treatment.
On your first visit, you will meet the radiation oncologist, who will discuss in detail the entire treatment plan: diagnosis, staging and treatment. It is important that we have your medical records pathology reports and imaging studies available for review at this time. Remember at this time to tell us if you are pregnant or if you are using a pacemaker, an implanted defibrillator or other electronic equipment.
Treatment simulation and the planning process will begin on the second visit. It will last approximately one hour, during which technicians will simulate the actual treatment, take measurements of your body contours and tailor your radiation shielding. Marks that will be used to guide treatment will be placed on your skin at this time and we'll ask you not to not wash them off until advised to do so by our staff.
Normally, treatment begins within five days of simulation; however, urgent radiation treatment can be started on the first visit. You will receive radiation daily, Monday through Friday, for several weeks. The actual treatment takes only about 15 minutes. Our oncology nurse will help you understand the side effects and how your lifestyle may be affected. No pain or sensation is felt during radiation therapy.
Systemic Treatment
A majority of cancer patients receive some type of systemic treatments throughout their care. This may include, but not be limited to:
Pre-medications (to reduce side effects)
General IV fluids (supportive care)
Hematopoietics
Iron therapy
Immune globulin
Central line and port-a-cath maintenance
Once a therapy is recommended at SIH Infusion Center, a chemotherapy nurse will tell you what you can expect, side effects and your treatment schedule.
Laboratory testing is very important throughout the treatment process. Labs can be drawn onsite and the results are reviewed immediately. Should you have any abnormal counts, your physician may decide to withhold treatment until you become stable again.
Pre-Treatment Considerations
You and your loved ones are encouraged to take an active role in your care and make treatment decisions that are best for you. Please consider some key areas before choosing a cancer treatment. If you have questions, please contact us directly at 618-985-3333.
Prognosis: A prognosis is a cancer specialist's best estimate of how your disease will respond to treatment and what your life expectancy may be. Your cancer may be discovered in the early stages and require minor treatment. Other cancers may have fewer treatment options or may be an aggressive cancer with a low survival rate. Talk it over with your family members and your physician. Together, you can weigh the options and choose the best approach that fits you.
Cost/Insurance Coverage: Because cancer treatment involves sophisticated techniques, machinery and medicine, it can be very expensive. Some treatments require a hospital stay of one night or more, which adds on to the overall cost. Health insurance and managed care plans rarely cover all the costs of cancer treatment, so it's important to find out what is and is not covered by your policy. Read more about insurance and billing.
Legal Issues: It's important to prepare legal documents that spell out how your cancer treatments and personal affairs should be handled, if you become unable to make decisions. Advance directives include documents like living wills, medical power of attorney and do-not-resuscitate orders. Downloadable forms are available.