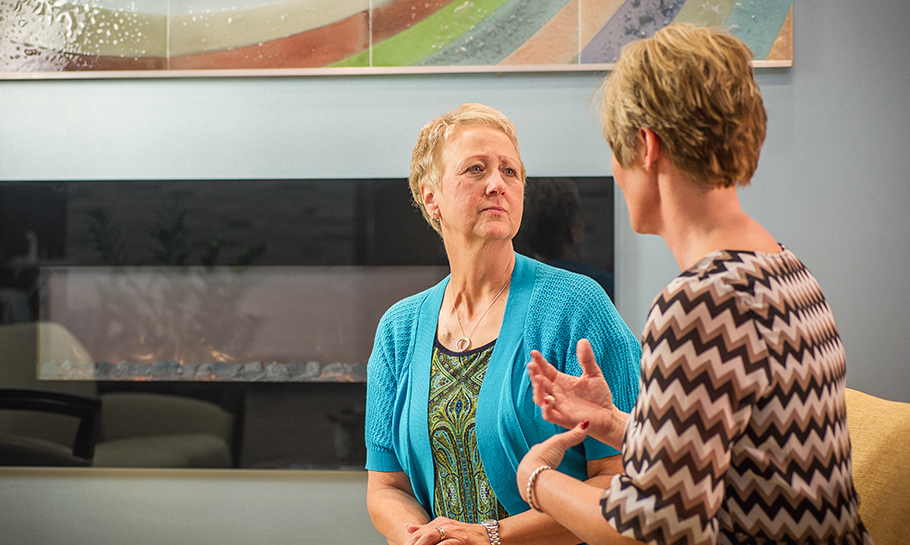 Survivorship begins the moment you hear the word "cancer." Your fight against cancer is our fight against cancer. We know that treating cancer isn't only about curing a disease — it's about restoring your sense of self.
We know dealing with cancer can create anxiety and stress. Our staff strives to help you keep a positive and determined attitude during the treatment process. You're encouraged to ask questions throughout your treatment. We offer many opportunities and services that you may want to take advantage of.
Patient education
Nutrition counseling
Financial counseling
Spiritual guidance
Transportation
Support groups
Educational and emotional support
Resource Center: The Resource Center provides educational material for patients and families looking for more information on specific types of diagnosis and treatment options. Research and information gathering can be done in a comfortable living room, equipped with a soft sofa and lounge area. A resource specialist will be available to answer questions as needed.
Strong Survivors: Strong Survivors is a free, 12-week program, offered in conjunction with SIU Carbondale's Department of Kinesiology, to help cancer patients and survivors develop an exercise routine and make good, proactive choices about nutrition. Any person who has experienced cancer is eligible to participate.
Helping you feel like your best self
Beauty Within Appearance Center: This beautiful and spacious room ensures privacy and comfort for those being assisted during consultations and wig fittings.
Beauty Within Boutique: This unique shop offers a variety of products designed to enhance appearance, boost self-confidence and make the recovery process as comfortable as possible.
Finding peacefulness at SIH
The Green Leaf Café: Open Monday through Friday during business hours, this café promotes health and wellness by providing healthy food and beverage choices for patients, visitors and staff. The café features coffee/beverage service, vending, made-to-order items and desserts. Patrons can dine in the large open cafeteria and during the summer months take advantage of outside patio dining.
Tranquility Chapel: Located in the lobby, this is a non-denominational place providing an oasis for meditation and reflection. The chapel overlooks a landscaped courtyard with water features. With the inclusion of comfortable seating and use of natural materials, visitors have a place of respite to retreat while dealing with a stressful and difficult diagnosis.
Healing Gardens: Gardens are abundant at SIH Cancer Institute. The central garden is situated in the Institute's interior courtyard. It offers a heavily landscaped view including natural plant and water features for a tranquil calming sound. West of the building is the large reflection pond with walking paths, bench seating and more. It's nestled next to the Crab Orchard Wildlife Preserve, helping you draw inspiration and strength from nature.
Extra help
Out-of-Town Accommodations: If you're visiting us from afar, we can assist you in finding area hotels/motels, restaurants at the Information Desk. Or you may find information at Carbondale Convention & Tourism Bureau and Williamson County Tourism Bureau.
Special Needs: Please ask our nursing staff for interpreters (including sign-language).